The Novel Editors
        Home  |  Editing and Placement  |  Application  |  Bios and Testimonials  |  Google MTM  |  Contact


---
There are no great writers, only great rewriters. We write or rewrite your novel with you, hand in hand, for as long as it takes to prepare it for submission to agents and publishers.
Three-book deal in 2016 with St. Martins for new mystery series, Paula Munier as author.

Her last nonfiction book on craft, Writing With Quiet Hands, reviewed on Amazon - "Paula Munier's Writing with Quiet Hands is the real deal. Munier knows writing and publishing from all the angles and covers them in such a way as to teach, inspire, and encourage. If you want to learn, turn the pages and behold." - Reed Farrel Coleman, New York Times best-selling author of Robert B. Parker's The Devil Wins.

To date in 2019, Paula has clocked over 120 official deals with major publishers as an agent for Talcott-Notch Literary Agency.

To date in 2019, Paula has signed eight authors from the New York Pitch Conference, and all have contracts with major publishers.

Literary agent, editor and author Paula Munier is one of the biggest new stars in New York publishing. Her energy is boundless, her network endless, and being a writer herself, as well as a congenial human being, her care and compassion for her writers is legendary. Paula possesses broad experience in a wide variety of genres, and in creating content in all formats across all markets for such media giants as Disney, Gannett, Greenspun Media Group, and Quayside. She began her career as a journalist, and along the way added editor, acquisitions specialist, publishing executive, and literary agent to her repertoire. She served as the Director of Innovation and Acquisitions for Adams Media, a division of F+W Media, where she headed up the acquisitions team responsible for creating and producing both fiction and nonfiction for print, eBook, eShort, and direct-to-eBook formats.


As a literary agent for Talcott Notch, her deals over the past two years span the genre spectrum. They include a nice six figures for THE REGISTRY by Shannon Stoker; SNIPER by Vaughn Hardacker, DYING FOR ATTENTION by James Shannon, THE BODY LANGUAGE OF LIARS by Dr. Lillian Glass, TREAT ME LIKE A DOG by Larry Kay, THE FISHERMAN by Vaughn Hardacker, DISINTEGRATION by Richard Thomas, DARK TURNS by Cate Hollahan, DEATH DEALER by Kate Flora, ORPHAN #8 by Kim van Alkemade, and HOT DOGS AND CROISSANTS by Natasha and Victorine Saulnier.

She is also the author or co-author of several books including HOT FLASH HAIKU, 365 WAYS TO MAKE AMERICA A BETTER PLACE, 101 THINGS YOU AND JOHN McCAIN DIDN'T KNOW ABOUT SARAH PALIN, ON BEING BLONDE, a YA suspense novel EMERALD'S DESIRE, and mainstream fiction novel FIXING FREDDIE. Paula also served four terms as President of the New England chapter of Mystery Writers of America as well as on the MWA board; and she's an active member of Sisters in Crime.

Her flagship book on fiction craft, PLOT PERFECT, is one of the most sought after technique manuals in the commercial fiction business.
---
Testimonials
"Paula is a true author advocate. Her unflagging faith in my work and in me as a writer helped me make my dream come true. It was Paula's savvy experience in publishing that led me to my first book deal."

    - Marie Miranda Cruz, Tor Books


---


"When I started working with Michael Neff, I had a draft of a manuscript but I was stuck. He helped me identify what wasn't working and offered practical guidance, as well as emotional support, as I worked through revisions. I ended up receiving multiple full requests and finally an offer of representation by a leading agency. Contacting him was the best thing I could have done for my writing career.

    - Renee C. Bauer, Bauer Law Group, LLC


---


"I am currently using the Manuscript to Market and under the tutelage of Michael Neff. One of the biggest helps he has been to me is to get me to "kill my darlings" and get on with making changes I need to make to get published. Each time he boldly asked me to think through making changes to my novel, I balked, and when I rewrote a chapter or two, or part of a scene, the book miraculously became a better book. He is a dream to work with, effective and worth every penny. Paula is a muse as well. She and Michael are a great tag team to help the author."

    - Writer's Block - Author Charles Darnell


---


"Michael Neff has been part of the industry that helps writers make their dreams come true instead of discouraging them. When I met him I knew nothing and he was one of the few people willing to open up about the world of publishing. His advice and his knowledge of writing and story helped me craft my first novel, and later, he helped me find an agent. I will always be indebted to him for his warmth and knowledge."

    - Author Ann W Garvin


---


"When I work with Paula Munier, I am blessed by the gift of three muses. Paula is an experienced editor, an energetic agent, and a talented writer who readily shares these skills with her clients. I know I can count on Paula to give me honest, constructive feedback with practical suggestions. She is nurturing, but also knows how to dish out a little tough love to a writer when needed. She has been a generous and accomplished mentor for me as a writer."

    - Author C. Michele Dorsey


---


"I met Michael at a novel workshop in Virginia, and beginning with that workshop, he turned my novel around, helped me invent a new one, and stuck with me over several rewrites and lots of anxiety until he landed an agent for me. I now have the career I've always dreamed of."

    - Author Wendy Eckel


---


"Hey Michael. Hope everything is going well and thanks for everything you did for my career."

    - Author Will Lavender


---


"Michael Neff has a remarkable breadth of knowledge about the writing craft. His pitching workshop taught me to distill my manuscript down to the core concept, which is essential to getting noticed in this competitive market. Thanks to his close attention, I was able to identify problems with my narrative and begin to shape my work-in-progress into a more compelling manuscript. Those early steps made a huge difference. The Edge of Normal became an award-winning novel and has been optioned for film."

    - Author Carla Norton


---



Michael Neff is the creator, director, workshop leader and content developer of the most results-oriented and successful writer conference event in the U.S., the New York Pitch Conference, as well as the most rigorous and results-oriented novel writing program on the Internet.

He has edited and assisted in developing many commercial novels over the past several years including THE FICTION CLASS by Susan Breen, THE EDGE OF NORMAL by Carla Norton, ON MAGGIE'S WATCH by Ann Garvin, and MURDER AT BARCLAY MEADOW by Wendy Eckels to name a few.

He is a story creator and a development editor for the adult fantasy from Macmillan Books, MAGICIANS IMPOSSIBLE, as well as a producer for the adaptation of the novel to the upcoming television series by Fox.

He is the story creator and co-editor for THE ETHEREAL SQUADRON, a World War I novel signed into contract by Evan Marshall Literary Agency, and also co-editor of THE DETECTIVISTS, a 19th century murder mystery signed by Talcott Notch Literary Agency.

Michael is a unique hybrid of editor, writer, literary entrepreneur, and small press publisher with one foot in the commercial New York world and the other in the literary press/academic universe. His interests range from literary to mystery to fantasy and nearly everything else inbetween. He is one of two Development Executives for AEI Films and Books in Los Angeles, and as such, actively searching for high concept projects that can be transformed into television, film, or novel. Recent commercial novels he has worked on as a development editor for AEI include THE BLACK PANTHERS by Gina DiNiccolo, MURDER AT BARCLAY MEADOW by Wendy Eckels, and RISE OF THE AMERICAN CORPORATE SECURITY STATE by Bea Edwards (AEI - Story Merchant). Novels ushered to commercial publication via his workshops include THE WISDOM OF HAIR by Kim Boykin, ORPHAN #8 by Kim Van Alkemade, DARK TURNS by Cate Holahan, and THE GOAT WOMAN OF LARGO BAY by Gillian Royes, among many others.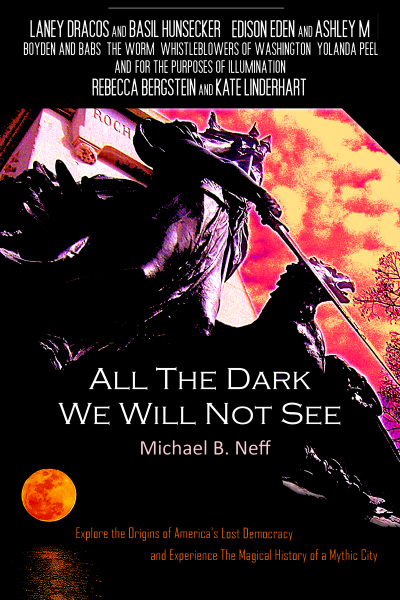 In his capacity as the director of the New York Pitch Conference he works with senior publishing house editors to locate and tap potential in budding new authors working in a variety of genres including upmarket literary and general fiction, serious and light women's fiction, narrative nonfiction, historical fiction, mystery, SF and fantasy.

Michael is a vigorous producer of articles on fiction and novel craft, including the Six Act Two-Goal Novel, Storyboarding Your Scene, Studies in Third Person POV, and many more.

Michael contributes as editor and publisher for Del Sol Press, and the Del Sol Review, a short fiction and poetry journal which publishes traditional and "on the edge" work. His own fiction has appeared in such literary journals as the North American Review, Quarterly West, Pittsburgh Quarterly, The Literary Review, American Way Magazine, and Conjunctions. His first novel, ALL THE DARK WE WILL NOT SEE, is published by the distinguished Serving House Books, and under the pseudo, W.W. Gleeson, he writes adult fantasy novels including PIPER ROBBIN AND THE AMERICAN OZ MAKER now on sale and a recent bestseller on Amazon. Michael has also served as judge for various writing contests, including the Writer's Digest Finalist Prize for best short fiction.


Application and Registration


---
Home  |  Editing and Placement Details  |  Application  |  Editor Bios  |  Contact

---
TOP OF PAGE
---